Basic Level
Free
All 600+ Podcast full lessons
3 X 6 levels HSK sample test
Premium Level
19.99 USD for 12-MONTH
All 600+ Podcast full lessons
5 X 6 levels HSK sample test
with explanations for all correct and incorrect answers
Full HSK 1 ~ 6 Grammar video lessons
one-time payment, non-recurring
The Complete Chinese Grammar Course
This Chinese Grammar learning course is created to help you build your grammar skills. It contains a full collection of all HSK 1 – 6 grammar points and clears the common confusion over key grammar rules. With the numerous lectures and exercises, its aim is to be the one of a kind solution to all doubts in terms of using Chinese structures.
This course is designed to suit your needs perfectly well. If you are a complete beginner, or if you just want to revise the basics, start from the very first lecture and follow the step-by-step approach, and you will be able to achieve great results at the end of each level course.
This course is idea for everyone! Choose your level, choose your problem areas – start revising, start studying. Check the sample lessons here >>>>>.
128 video lessons (16+ hours in total)
To cover HSK all 1 – 6 levels
163 grammar points illustration
40 basic sentence structure summaries
37 key grammar points comparison
Online HSK Sample Tests (Premium Version)
As you know, we have provided the free HSK sample tests. The biggest difference between the paid version and the free version is that it provides the explanations for all questions. The number of quizzes (each level) increased from 3 to 5.
Here is a sample of premium version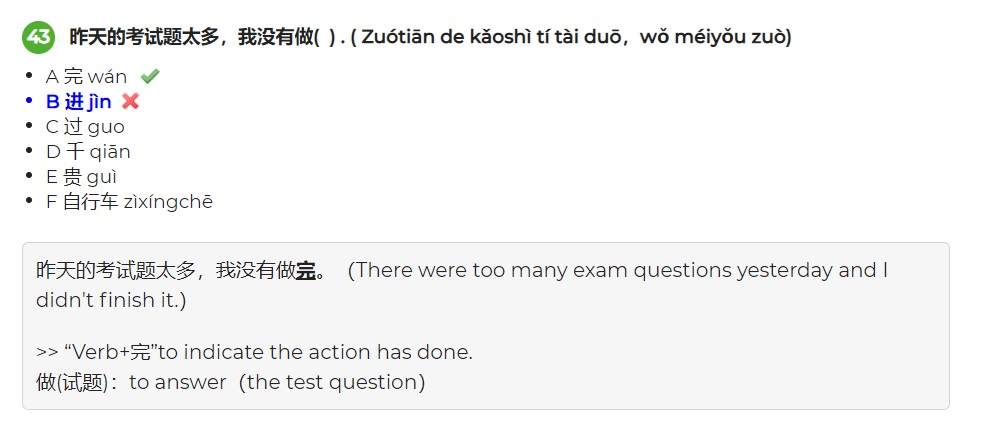 Frequently Asked Questions
What if I am unhappy with the premium content?
If you are unsatisfied with your purchase, contact us in the first 7 days and we will give you a full refund.