There are many strategies suggested by language teachers for learners to improve their reading skills as well as enlarge their vocabulary. One of the most helpful methods is to read more. It sounds helpful, but does this method really work for Chinese learners? The answer is YES, it definitely works. Research has shown that learners who read in Chinese frequently improve in every area of language learning at a faster rate than learners who don't read. However, when students try to find Chinese reading materials, problems come up. Some find the reading materials are too hard to keep up with, and it feels like a waste of time, especially when they need to stop and look up unknown words all the time. Some can't even find suitable Chinese reading materials since they don't know where to look.
If you want to get the best possible results from your Chinese reading practice, you need to know what Chinese graded readers are. Chinese Graded Readers are reading materials covering a variety of topics that are specially written for Chinese language learners. They are graded by syntax and vocabulary level, meaning that they are accessible for readers of all levels looking to do extensive reading.
Many learners, especially beginners and intermediate learners, are very tired of reading same outdated, boring textbooks. Even though they are educational, textbooks are not as engaging as short stories or articles, which is what graded readers offer. But if you're looking at graded readers, you need to know where to find ones that are both appropriate for your Chinese level and your age. Many graded readers include topics that are more suitable for children than adults. However, Mandarin Bean's Chinese graded reading materials are here to help.
How to find suitable Chinese reading materials
Mandarin Bean focuses on this critical issue and continually creates thousands of Chinese graded reading materials for Chinese learners. These reading materials are adapted from Chinese history classics, news, travel, fun stories, or they are original stories written at a less demanding language level. It's easy to follow their corresponding level content and you won't be bored easily thanks to the rich topics and variety of categories.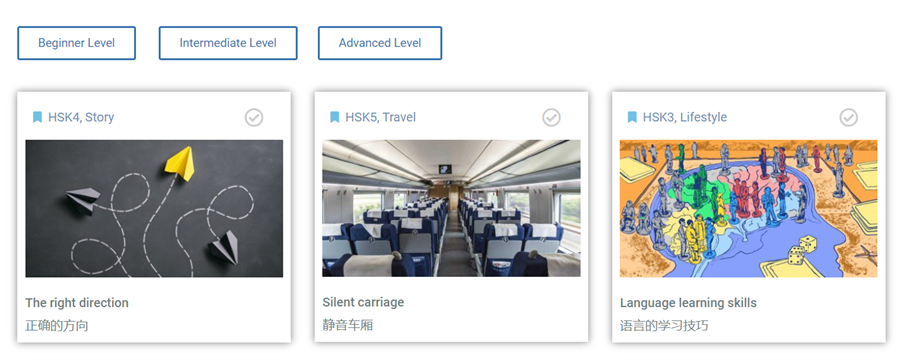 By practicing reading with these materials, students find that they get progressively more comfortable reading Chinese characters. No matter simplified or traditional, it's very handy to switch between either version on Mandarin Bean. And of course, new words won't be a problem for those who struggle with characters since there is also a Pinyin on-off button for each character.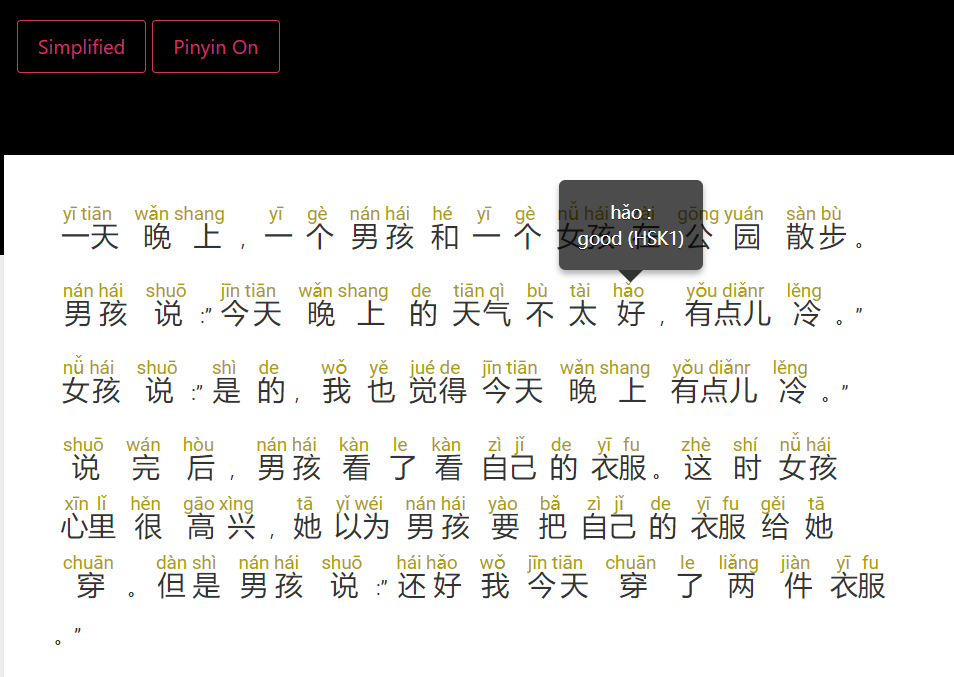 It's a more natural and efficient way to practice and improve Chinese reading skills. Learners are reading the same stories and news as native Chinese people, but it's just a simplified version adapted to their current language level. So sometimes, students can view the same topic at different levels, with different words and grammar points, but the same meaning.
Students can also expand their lexicon while reading, without encountering an overwhelming number of unknown words. All of the words are selected from and categorized by HSK (Chinese language proficiency test) level, which ranges from level 1 to 6 and above. No matter if a learner wants to practice vocabulary from a certain HSK level or keep reviewing and learning on a daily basis, graded readers are an efficient way to reach their goal. Advanced learners and business Chinese learners can also challenge themselves to read the business news section. There are always new materials covering trending topics in there.
In addition to reading, all of Mandarin Bean's content also includes the corresponding audio. This way, learners can not only practice reading but also listening.
Steps to use the graded reading materials
1. Evaluate
Evaluate your current Chinese level and then focus on the corresponding content.
You won't feel bored since the topics vary and each article has about 10-20% new words, which allow you to grow as a reader but aren't a huge obstacle. That way, you can improve your reading ability as well as vocabulary.
2. Listen
Listen to the audio without looking at the article and see if you can understand what this piece of content is talking about.
Don't feel pressured or depressed if you find that you don't understand it at all. Sometimes, our reading and listening skills are not balanced, which is quite natural. Moreover, there are likely some new words you haven't heard before in it. Try listening to it again and take notes about the key words or phrases you hear.
3. Read Roughly
Read the article you listened to and compare it to your previous understanding. For the first time you read it, try turning off the Translation and Pinyin buttons. It's a very direct way to assess your vocabulary and knowledge of characters.
4. Read Thoroughly
Review the vocabulary list and check the words you are not sure about or don't know at all. Make sure you understand what this article is about. If there are still some unclear parts, then compare it against the translation.
5. Cross reference
Reading out loud is a method that learners often brush aside, but it actually helps with your speaking, understanding, and memorizing. You can shadow the audio and then read aloud by yourself. While you are cooking or sitting in traffic, listen to the audio again because it can help you internalize the expressions and vocabulary you've learned. It's also a great way to review.
6. Review
Reading is not a one-time thing. It's better to read something and review it every now and then. You can only truly learn new words when you encounter them often. And there is also the added benefit of grammar practice. Repeating and retelling the story or the news is also a very productive way to review the content. Don't miss out!